In the morning of November 01, 2022, Mr. Hoang Duc Vuong, the representative of VietCycle Corporation participated in the panel discussion "Women as a force for good toward sustainable development" at the signing event of cooperation agreement between Unilever Vietnam and the Vietnam Women's Union which took place in Hanoi. VietCycle looks for cooperating with the Vietnam Women's Union and Unilever on promoting women's participation in plastic waste collection and sustainable development.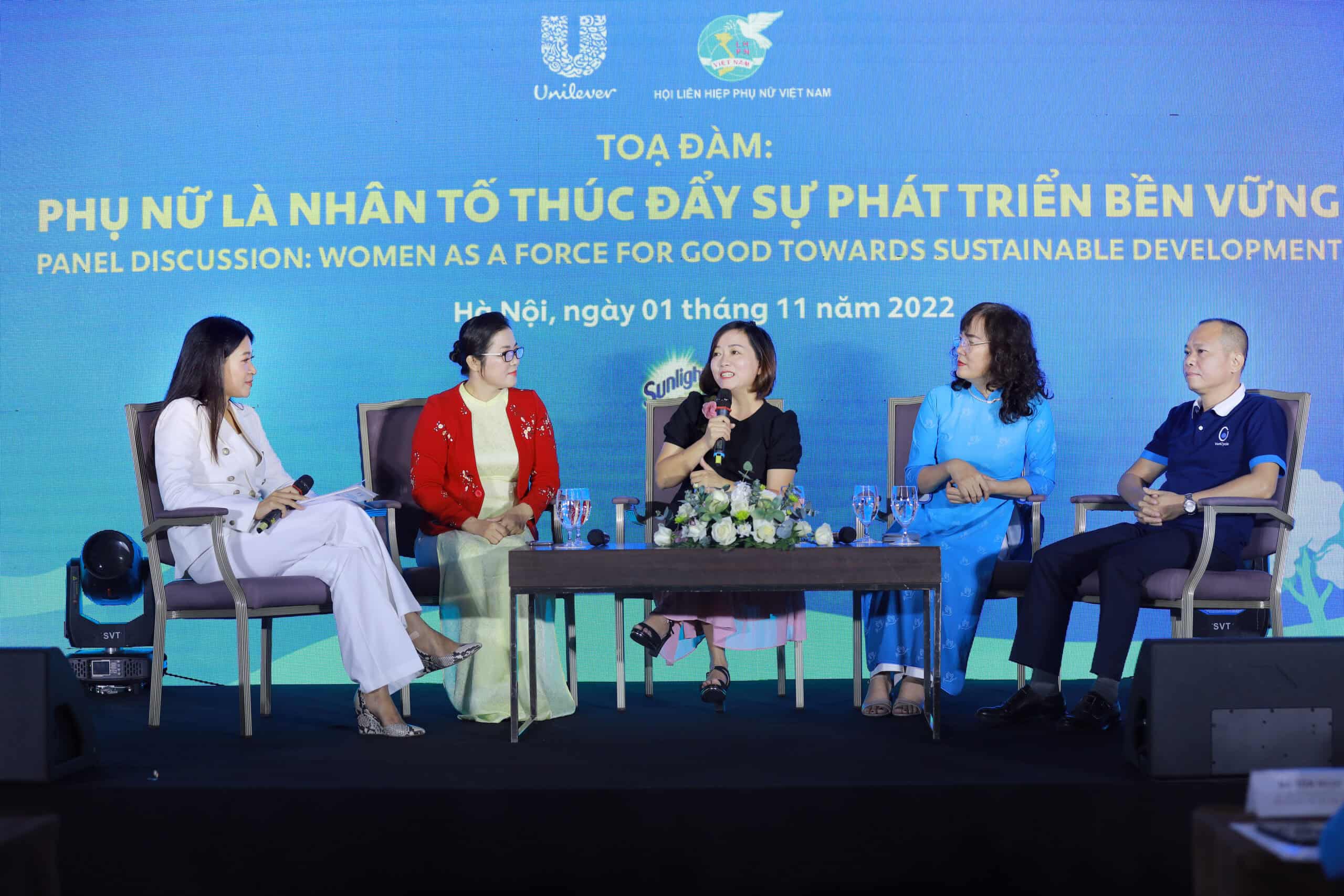 Mr. Hoang Duc Vuong is one of the guests at the panel discussion
At the panel discussion, Mr. Hoang Duc Vuong, Chairman of the Plastic Reborn Association, and Chairman of Vietcycle shared that despite the positive improvements in the equality indicators in Vietnam, many actions should be taken to remove both visible and invisible barriers which hold women back.
Mr. Hoang Duc Vuong shared his general opinions about the topic "Women as a force for good toward sustainable development".
"In fact, equality indicators make more sense in urban areas while inequality has been a critical issue in rural areas. We hope that gender equality will be more universal, not just limited to the 'privilege' of urban women. This is also the reason why Vietcycle cooperates with Unilever to carry out the project 'Plastic Reborn' in an attempt to affirm the role of rural women in environmental protection activities; as well as the projects for assurance of disadvantaged women's livelihood" shared Mr. Hoang Duc Vuong.
VietCycle connected and shared cooperation opportunities with the Vietnam Women's Union
VietCycle and Mr. Hoang Duc Vuong always believe in the modern generation of women who independently create values of freedom and happiness not only for themselves but also for the whole society. VietCycle will constantly connect with stakeholders to extend its activities for promoting the role and raising the voice of women, especially in the waste collection community in general and plastic waste in particular (known as waste collectors) of the company.
Representatives of parties took photos.